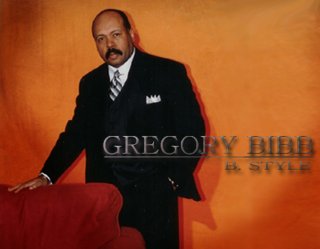 The Late Gregory Bibb (RIP)
Composer-Musician-Producer- Educator
Gregory Bibb gained recognition locally and nationally for his work as composer, musician and producer/director. Receiving a Bachelor of Arts degree in Music Educations and Humanities from Chicago Conservatory of Music as well as additional graduate study in music Composition and Education at DePaul University, Gregory established an exiting musical career. His career endeavors lead him to produce, write and perform three major albums under the Brunswick, Kelli-Arts, and Music of Magnificent Mile recording labels.
Gregory served as musical director for Chi-sound artist Walter Jackson and Gene Chandler during their Chi-sound years.
Gregory composed, written and scored music for three highly acclaimed documentary programs; 1994-"When she gets old", Midwest Regional Emmy winner for best documentary. "For the Children" , A 1995 WTTW production nominated for best documentary and music by the Midwest Regional Emmy Academy and "The Incredible Voyage of Capt. Bill Pinkney", winner of the 1995 Ace Cable award for best documentary and recipient of the prestigious Peabody award.
Gregory was the creative thrust behind Gregory Bibb Music Productions, A commercial production company providing original Music for radio and television commercials serving such clients as NASDAQ Stock Exchange, American Resort Hotels, Marriott Hotels, Maple Furs, Old Style Beer, and Many others.
In 1994/1995, Gregory published four articles in the "Music Educator and Computer" Magazine outlining practical technology applications for today's contemporary classroom music teacher. Working with musical department of Boston University, Gregory served as music educational contributor to the goals 2000 presidential music education report.
Gregory held a plethora of positions, including Music Director; Kennedy-King College Outreach Theatre Program, Assistant A&R Director; Chi sounds United Artist Records, Cultural Urban Arts Coordinator; City of Chicago, and Music Instructor; Chicago Public Schools.
Whether performing, teaching, or working in the studio, Gregory was always challenging his creativity and striving for the top.
---